Sara was looking for
Mike
. This is what she found. She sent me an email asking if I thought Mike would rollerskate with her. I think he would. The new
Noö Journal
is out. You should look at it and pretend to read it and tell other people that you read really great things in it but wish that Jack Morgan had work in it.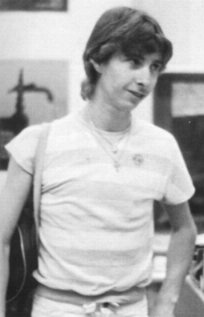 Michael Young
Last I heard he was a poet and living in Manhattan ... Mike lived across the street from Marta Weitz's parents. He was born on Christmas Day ... According to Marta, "He was really into Martial Arts, poetry and writing. He does live in New York and is doing a lot of writing." ... Before moving across the street from Marta's parents' house, Mike used to live about a block from MY house behind St. Catherine's. He and I spent a LOT of time together when we were very young listening to Kiss and Queen in our bedrooms, hiking around Neversink Mountain, flying balsa wood planes, racing Match-Box cars, playing kickball, going roller-skating and throwing a Frisbee back and forth.




""""""""""""""""""""""''''''''''''''''''''''''''



Speaking of roller skates, I found out last night that I will be reading at Adobe Books on June 26th in the Mission with Sophie Sills. It is going to be a very good reading.

June 7th is MAPP, where Joseph Lease and Elliot Harmon and others will be reading, and I will be MC-ing and co-curating. L's Caffe, I will update you on that one.

June 29th, Jack Morgan and Sara Mumolo will be reading at The Smell in L.A. for all you So Cal peeps looking for a fix.

June 6th is all about Trevor Calvert at Pegasus, but if you're stuck on the peninsula, you can always check out Leslie Scalapino and one of my favorite people/poets, Lyn Hejinian, at the De Young.